New stitcher shows Herenco Press tomorrow's format
Herenco Press in Jönköping was the very first with a stapler that can produce newspapers and programmes in quarter tabloid format. The new stitcher is now up and running in production, and Björn Ross, General Manager at the printers, is pleased with the new machine.

According to Björn, the initial test went extremely well. He believes the new machine will offer many advantages and mentions they will now be able to compete with a new format. What's more, they won't have to throw away nearly as much paper. "There's a huge economic difference," continues Bengt-Ove Karlsson, Pre-press Manager. "If we compare with a tabloid, we'll now have a newspaper that is just under A4 format. Also, only a minimum amount of paper needs to be cut away, and the newspaper can contain twice as many pages. And we can use better quality paper; a little whiter and a little heavier," continues Bengt-Ove.
Approaching new markets
Björn Ross says expanding his product catalogue is a good way to approach new markets. The stapler was the first step in a major installation at the printing plant. Step two will involve printing in new formats and developing their existing products. "Many commercial printers are already able to handle this format. But now we can produce the finished product without having to handle it. Elsewhere, this kind of product involves several different operations."
So how come you're the first to use it?
"It came about by pure coincidence. We were in discussions with Tolerans and they said they had such a machine under development. After a little back-and-forth we agreed to help develop it. We'll continue with the collaboration during 2017 to develop the product further, and try out new features. We have a few new ideas about the features we want, and they aim to find solutions for us."
What kind of opportunities does it offer you?
"I think there's a huge opportunity to bring in external customers. I have faith in this format for the future. Many customers express a keen interest when we show them a paper in this smaller format. And people don't like having to pay for the paper we throw away, so this is a great solution," says Björn. "We believe we can gain market share by printing programmes, staff magazines and advertising mail shots."
Offering internal customers an exclusive product
Björn Ross and Bengt-Ove Karlsson both hope that their printing business will have regular products ready to run through their new stitcher before the summer. "This is a handy format. The plan is to offer our internal customers an exclusive product that helps them boost their status. Next, we can maybe succeed in gaining an external customer or two for the summer,"  says Björn. "We've tested the machine, and now that we have it up and running, we can go out and show the market what we can do," concludes Bengt-Ove.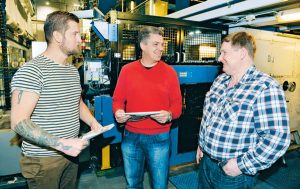 Johan Lindberg, Björn Ross, Bengt Ove Karlsson.