It's here! Welcome to the new Tolerans website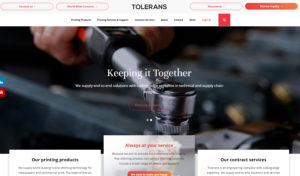 We're happy you're here! We hope you enjoy browsing and discovering all the updated features on our new site.
They include the quick service inquiry request. It's there to guarantee a reliable response in a partnership that safeguards your production at all times.
We've also extended the presentation of our range of products and solutions. Search for detailed information, take a look at it and get acquainted with it all in one place. Now printing, sharing and downloading is quick and easy.
We've also brought together info about who we are, what we do, what we're really good at and the way we like to do it. We feel being number one in the business not only comes with the responsibility of being open to new ideas and innovations, but also to our customers. Not to mention always being at their service by providing the best possible support and product solutions.
We're thrilled about our new website and are looking forward to filling it with all the new, exciting things we have lined up for the future.
Happy browsing!
PS. If you think something's lacking or you find something you want to ask about, we'll be glad to hear from you!